Adults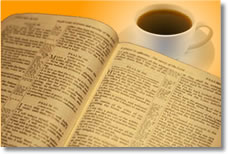 Adult Sunday School
On Sunday mornings in the Fellowship Hall, Pastor Dunn leads a Bible study for all adults. He is currently teaching a verse-by-verse study of the Torah. The lesson is from 9:30 to 10:15, followed by a time of fellowship where refreshments are served.
Ladies Bible Study
On Tuesday mornings at 10:30, the ladies meet in the Fellowship Hall for a time of prayer, fellowship, and Bible study taught by Pastor Dunn. Childcare is provided through age seven.
Adult Fellowship
Top of the Hill Gang
"We're not over the hill, we're just at the top." That's their story and they're sticking to it! This group of empty nesters and baby boomers get together monthly for a time of fellowship and adventure. They board a bus and take off for field trips to the theater, museums, ball games, and other special places and events—always with a stop at a good restaurant. So if you're at the top of the proverbial hill of life and looking for fun with fellow Christians, this is it! For more information, contact Art Walzel at the number in the church directory.